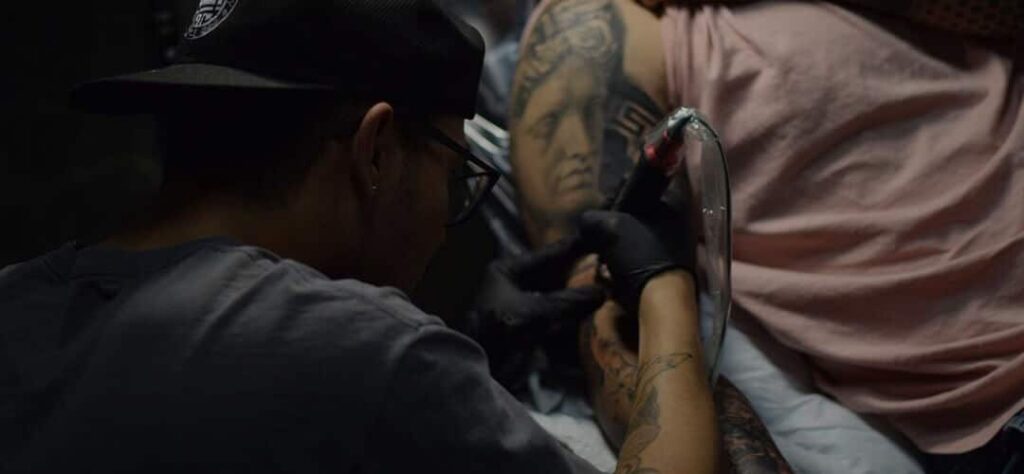 Losing a loved one is never easy. Without a doubt, it is one of the most difficult things that anyone can go through in life. There are no words that can truly express the pain that you feel when you lose someone that you love, but one way to help ease the pain is to remember them by having a cremation tattoo.
A well-lived life should be celebrated and remembered, and one of the best ways to do that is to have a tattoo with the ashes of your loved one. That is what cremation tattoos are all about. They are about honoring the life that you lost by having a tattoo that reminds you of the person you loved the most.  Please note, that Skin Design Tattoo artists don't have the service of cremation tattoos.

What Are Cremation Tattoos?
A cremation ash tattoo is a type of commemorative tattoo that is created using ash-infused inks that are made from your loved one's ashes. The idea of using your deceased loved one's ashes in your tattoo may seem a little bit too much for some, but it is actually the ultimate way to honor them. It is a permanent reminder that they may be gone, but they will never be forgotten.
How Does a Tattoo With Ashes Work Exactly?
Getting a cremation tattoo is essentially the same as getting any other tattoo. The only difference is that the tattoo ink is infused with the ashes of your loved one. The tattoo artist will basically mix a small amount of ashes with the ink, load the mixture into the tattoo gun, and then apply it on your skin.
Can You Put Ashes in Tattoo Ink?
The ash needs to be of very fine consistency so that it will blend with the ink well. If not, it will be too thick to work with. It takes a very high level of expertise to create a great tattoo with ashes, which is why it is best to go to a tattoo artist that specializes in cremation tattoos.
Is It Safe?
Using ashes in tattoo ink is generally safe considering that the deceased body is cremated at temperatures of up to 1,800 degrees Fahrenheit. This means that the ashes virtually do not pose any risk of infection or disease.
However, it is important to be extra cautious when handling the ashes to prevent any contamination. Get a tattoo in a clean and sterile environment to avoid any possibility of infection. Moreover, it's important to note that there's little to no scientific evidence that proves that ashes in tattoo ink can cause any kind of health issues.
Tattooing With Ashes: Is It Legal?
Getting tattoos with ashes is not illegal. However, you will need to be very careful when choosing the tattoo artist that you will work with. In fact, "ritual" and "commemorative" tattoos have been around for centuries, and it is not uncommon for people to have tattoos using the ash of their deceased loved ones. Using ashes in tattoo ink has long been used for cultural and religious purposes as a form of honoring and memorializing the dead.

How Much Does a Cremation Tattoo Cost?
Compared to normal tattoos, cremation tattoos are a bit more expensive. Prices vary from one tattoo shop to another but generally speaking, you can expect to pay between $195 to $489 depending on the size and design of the tattoo.
Full sleeves and portrait tattoos will definitely cost you more, so it is best to schedule a tattoo consultation with the artist of your choice to discuss the details of your tattoo and the costs involved.
What Are the Pros and Cons of Tattoos With Ashes?
The pros and cons of using cremation ink for tattooing are pretty much the same as a traditional tattoo. The main difference is that you will have a permanent reminder of your loved one's life and passing. However, this can be a double-edged sword that can either help you cope up with your loss or make you even more sad and depressed.
For most people, getting a cremation tattoo is a great way to commemorate and honor their loved ones. The best part is that you will be able to enjoy your tattoo for the rest of your life. You'll find comfort in knowing that your loved ones will always be a part of you, even after they are gone.
As with any tattoo, getting a tattoo with ashes can be an emotional and sentimental decision. If you're considering getting a tattoo with ashes, it is important to weigh your options and make sure that you're doing it for the right reasons.
Plus, this type of tattoo can be quite expensive. If you are willing to shell out some cash, go for a reputable tattoo shop that specializes in cremation tattoos. This will ensure that you get a quality tattoo that will last for years to come.

What are the Precautions and Considerations?
There are a few things that you need to consider when getting a tattoo with ashes. While it is not illegal to get a cremation tattoo, you should always be extra careful and follow all safety precautions to prevent any contamination and infection.
If your skin is extra sensitive, it is also best to consult a dermatologist before getting a tattoo with ashes. This is especially important if you have any allergies or skin conditions. Some people also claim that cremation tattoos, when in the process of healing, cause some itchiness and discomfort.
Plus, one of the biggest challenges that you may face when getting a tattoo with ashes is the fact that it is quite difficult to find a tattoo artist who is willing to work with cremation ink. Death is a very taboo topic and most tattoo artists are not comfortable using ashes in their tattoo ink.
There are also some reports that cremation tattoos fade away over time especially when the artist used too much ash in the tattoo ink mixture. Tattoo ink is a highly concentrated pigment, which means that it will take longer for the ink to completely fade away.
Adding ash dilutes the pigment, which will result in a tattoo that is less vibrant and will fade quicker. That's why it is crucial to find a tattoo shop with proven expertise in cremation tattoos to ensure that you get a tattoo that will last for years to come.
If you are very particular about what tattoo ink is made of or if you are worried about the health and safety risks of cremation tattooing, you'll have to take extra precautions and make sure that you have a consultation with a dermatologist and a reputable tattoo artist before jumping into the bandwagon.
If you are searching for reputable tattoo shops near me, you may want to check out Skin Design Tattoo. Skin Design Tattoo is a top-rated tattoo shop that specializes in both traditional and commemorative tattoos. With locations across Las Vegas, Caesars Palace, Honolulu, New York City, and Orange County, Skin Design Tattoo is the place to go if you are looking for a tattoo shop that offers personalized service and top-notch customer service.
Getting a tattoo using the ashes of a loved one might seem morbid to some, but for others it's the ultimate form of love of dedication. According to one tattoo shop manager in Toronto, Ashes are essentially carbon and carbon is the main ingredient in black ink. To read this full article on here.